THE KNIGHTS OF THE MACCABEES RETURN
THE NEW KNIGHTS OF THE MACCABEES
The Fraternal Order of the Knights of the Maccabees is alive and well. After a long and storied tenure as a mutual reserve life insurance company, the KOTM has returned to its fraternal roots.
ASTRA CASTRA NUMEN LUMEN
"The stars my camp, the Deity my light." The fraternal aspects of the order draw on the exploits of the Jewish military genius Judas Maccabeus. The aspects of Maccabeus's feats that appealed to the founders of the KOTM also inform the 21st-century Maccabees: steadfastness and persistence.
His wisdom in the use of power and the fact that he seems to have been the first recorded military leader to order his soldiers to reserve a part of their spoils for the widows and orphans of their fallen colleagues appeal to men and women of every generation.
A MODERN MOVEMENT
Fraternal Orders fell from favor in the United States after World War II, but are now seeing a resurgence of interest. Today's men and women are discovering that mindless consumerism holds little in the way of permanent satisfaction. Americans are banding together to form beneficial fraternal orders, orders that provide social interaction and that aid society as a whole.
Information links
more information
Want to find out more about the Knights of the Maccabees? Explore this web site.
Pay especial attention to the beautiful Modern Regalia that you will want to wear to meetings and fraternal convocations.
Then contact our office at colonelbartel@gmail.com. We'll be happy to supply you with more information.
An ancient order reborn
The Fraternal Order of the Knights of the Maccabees rises again.
Following a long history as a mutual reserve life insurance company, the Order returns to its fraternal roots in a new, modern Fraternal Order.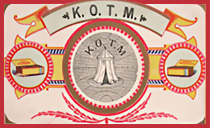 Based in California, the KOTM will sponsor tents worldwide.
The modern KOTM has no connection with Michigan Union Life Association, the Maccabees Mutual Life Insurance Company, or any other insurance company.