We now have a skilled new tailoring agent of high regard for European and domestic Military uniforms who can provide an ORCC Uniform which is completely suitable for any formal occasion or ORCC event.
The ORCC uniform style is termed "Military Formal Dinner attire" or more affectionately, "Officer's Mess Dress." The lapel colors for a Chevalier up to and including ambassadorial and Grand Conclave positions would be red, as evocative of the "Red Cross" which was seen by General (later Emperor) Constantine. Most of the members of the Grand Conclave have this or their own uniforms which are worn instead of black-tie attire on such appropriate occasions.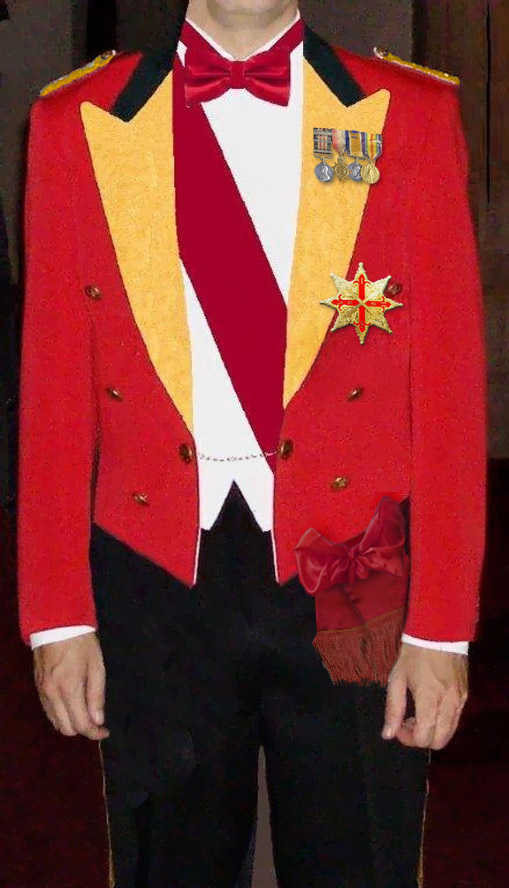 If you are a Grand Commander of the Order and an Officer of the ORCC, please remember that your trouser stripe will be 3cm and that your shoulder board should have three pips (red crosses) in a row on each board.
Be prepared to give your body measurements, the height of your footwear or shoes when your measurements were taken, and your name, rank, and position in the Order. Please explain to the tailor the nature of your clothing and undergarments worn when the measurements were taken (and whether or not you were standing or sitting, etc.).
By bank deposit or Western Union, be prepared to pay approximately $340.00 USD, including shipping to Mr. Atta's company. Please allow a month to six weeks for the custom tailoring to be finished.
Here is our designated tailor's information:

Mohammed Zeeshan Atta (Managing Director)
Atta Ullah Badges
P.O. BOX # 773
MAG TOWN B BLOCK
STREET # 1 HOUSE # 193
SIALKOT- PAKISTAN
TEL: 0092 3008616697
Website: www.aubadges.com

Electronics Mail: aubadges2@gmail.com and info@aubadges.com
Neither the ORCC nor Dubsar House have any connection with, or in any way derive profit from, the arrangements between you and Mr. Atta. Nor do we in any way receive money or favors because of any transaction you may have with him. We are therefore not in any way responsible in the unlikely event that any disputes may occur in regards to this uniform or its manufacture, etc. However we at Dubsar House believe that this tailor is professional and quite adept at the fabrication of uniforms for a number of chivalric orders, and we and the ORCC use him personally.